Laboratory
Our laboratory
Medistri's in-house laboratory is a full-service contract laboratory, specialised in microbiology, analytical, bioanalytical chemistry & cell biology services, custom synthesis, and R&D.
Our laboratory works according to ISO 17025 (current version) and is accredited since 2008 by the Swiss Accreditation Service (SAS). All testing can be performed according to European or US pharmacopeias.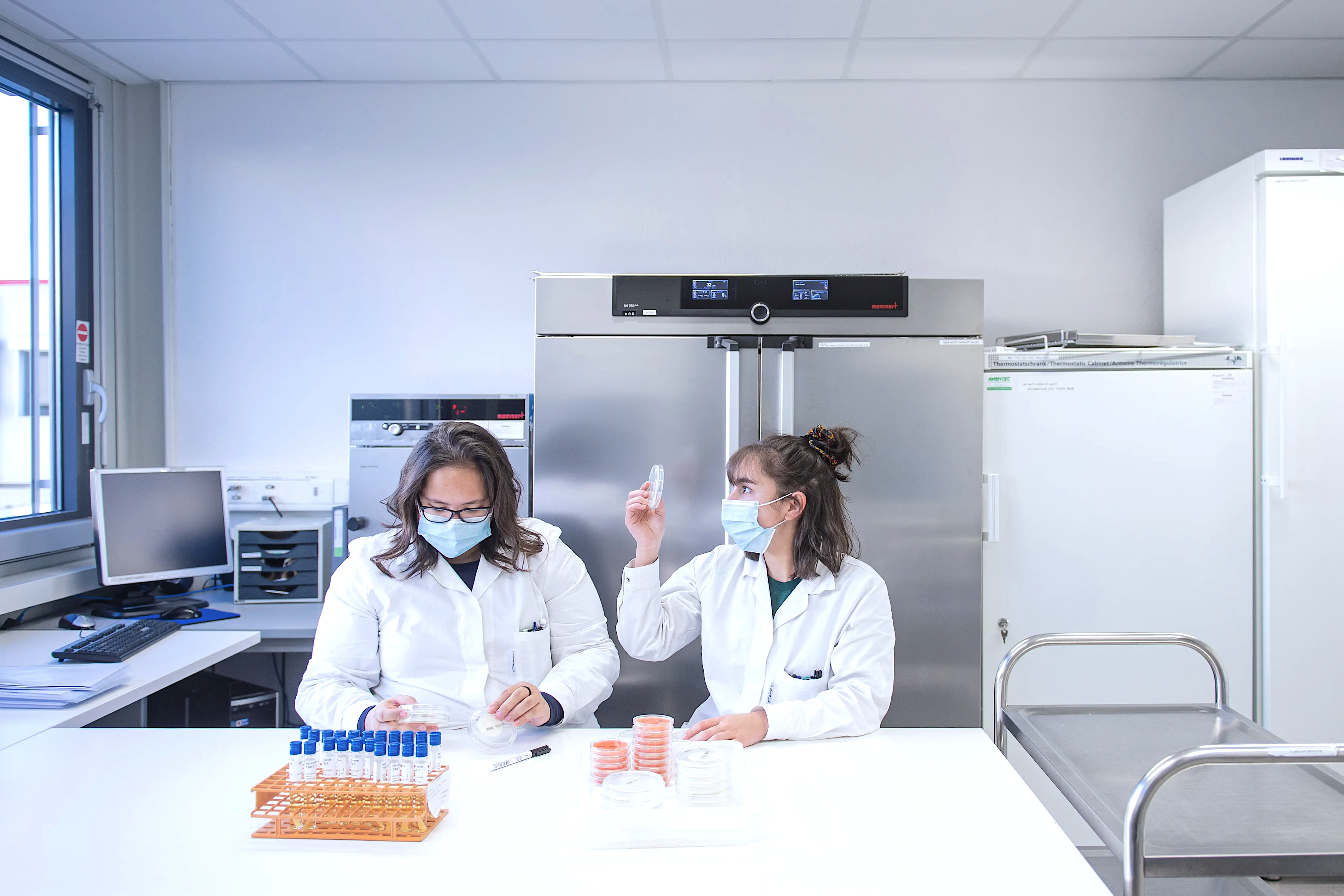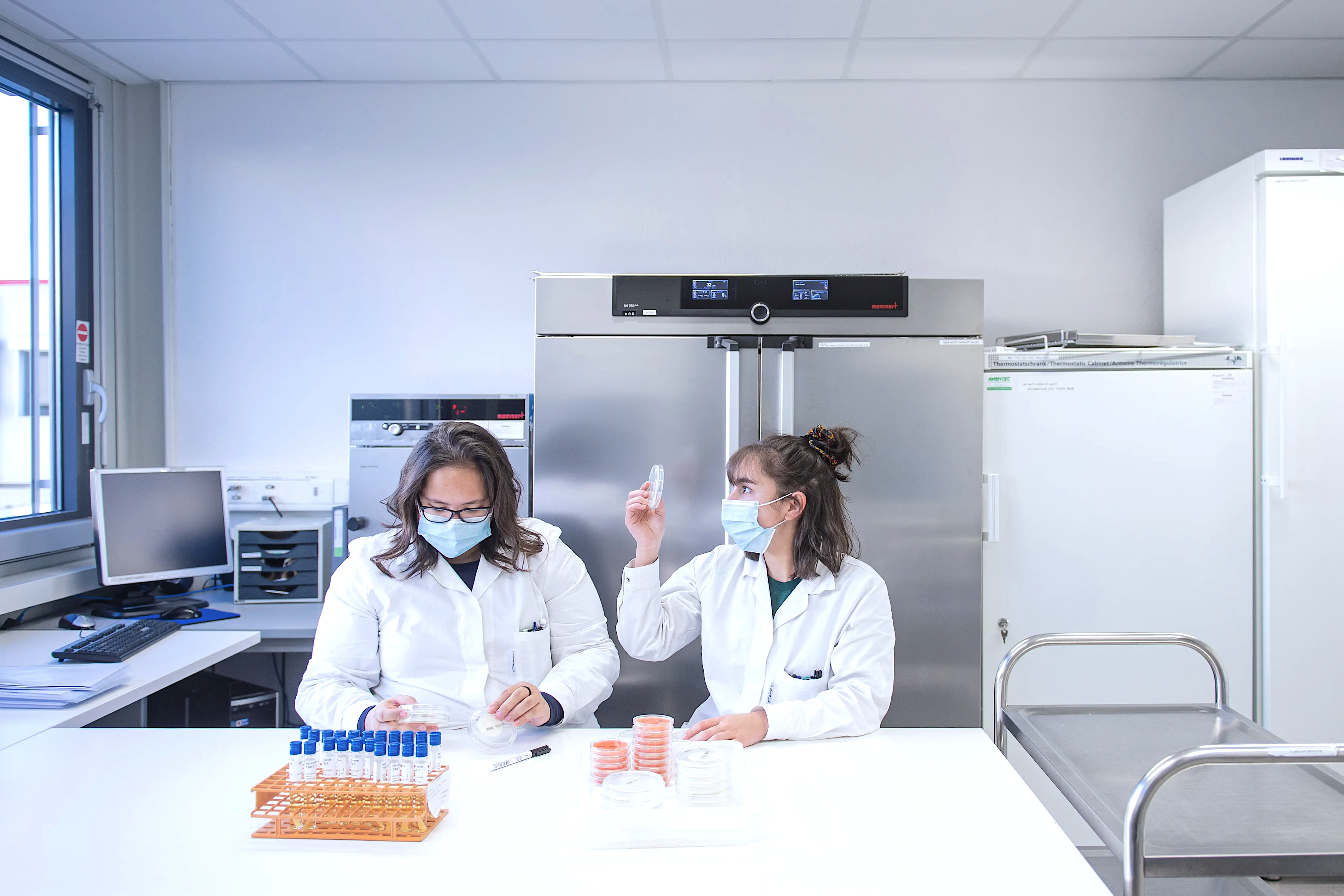 Areas of Competence
Biocompatibility
An integral part of biological risk assessment, biocompatibility testing assesses the compatibility of medical devices with a biological system.
Chemical Characterisation
Determination of composition or purity of your materials, controlling quality, and identifying unknown substances.
Cytotoxicity
Determine the toxicity to cells of compounds either qualitatively or quantitatively.
Toxicology Studies
Toxicology studies are used to characterize the toxicity profile of a drug by identifying its impact on organ structure and / or functionality. This includes assessment of the severity and reversibility of toxicity, as well as dose ranges and their relationship to exposure.
Complement Activation
Complement activation is a component of the innate immune system that helps eliminate microorganisms and damaged cells by attacking the cell's plasma membrane. Activation of the complement system by a medical device or other foreign material can have deleterious effects including tissue damage and inflammation. ISO 10993-4 recommends that some medial devices be tested for complement activation.
Heavy Metal Elemental Analysis
For pharmaceutical products, the quantification of the load of heavy metals is done to identify contaminants and to perform bioanalysis on therapeutics designed to contain heavy metals.
Trace Elemental Analysis
Measure inorganic impurities in pharmaceutical, biological, and nutraceutical formulations.
Medical Device Shelf Life Testing
Medical device manufacturers wishing to gather data on the shelf life of their products may subject their devices to long-term stability studies or accelerated ageing studies. Many different endpoints can be used to assess the shelf life of a medical device, including sterility or package integrity, so it is important that endpoints and test methodology are decided upon before testing is begun.
Small Molecule Identification and Purity Testing
Identity and purity testing are crucial requirements of a lot-release. There are a variety of testing methods to determine drug substances and products to ensure that final drug products match client specifications. Infrared spectroscopy is notably the most powerful test in confirming the identity of small molecules and pharmaceuticals. As written in USP <197>, "the IR absorption spectrum of a substance […] provides perhaps the most conclusive evidence of the identity of the substance that can be realised from any single test." FTIR results may be used to compare multiple specific peaks in the IR spectrum with those of a reference standard, establishing robust acceptance criteria.
Extractable's & Leachable's
Leachable impurities can migrate from components in container closure systems, packaging systems, storage systems, process equipment, and device packaging, which affect the overall purity and safety of the therapeutic product. In order to identify potential sources of leachables, it is important to conduct controlled extraction studies to identify extractables and the components that generate them. Hence testing for Extractables and Leachables (E&L) is crucial to product release.
Residual Testing
Analyse chemical residuals on your medical device in order to provide insight into cleaning operations after production. We conduct gravimetric analysis to determine the total amount of residue coming off the device. We can use GC and GC-MS to quantify residual chemicals left over by detergents and cleaning agents and UV-Vis spectrophotometry to measure residual protein. We can analyse Total Organic Carbon (TOC) to quantify the organic carbon residues on the device left over from oils, detergents, and adhesives.
Sterile Barrier Integrity Testing
Package integrity tests are used to detect packaging problems that could adversely affect the sterility of a medical device. Sterile products may be subjected to environmental stress intended to simulate extreme conditions that a product might encounter in shipping or storage. The product packaging is then subjected to microbial challenge or dye penetration testing to determine if it has retained its properties as a microbial barrier.
Bioburden Testing
Many single-use medical devices are terminally sterilised using EO, Steam, or radiation technologies. Manufacturers are required to validate the sterilisation process and typically require both bioburden and sterility testing.
Plastics Testing
Manufacturers benefit from a material classification if plastic resins are likely to be used in their medical devices. A plastic material that has passed the USP Class Plastics tests is expected to be more likely to produce favorable biocompatibility results.
Environmental Monitoring
Whether you are manufacturing a medical device or a drug API, the safety of end users is at stake. Having a thorough environmental monitoring program in place will allow you to know the status of your environment, giving you the power to control it and make changes to it. Medistri's team can help strengthen your quality management system and can perform a wide range of testing methods in order to accurately monitor the environmental conditions of your manufacturing process.
LAL & Bacterial Endotoxin
The LAL (Limulus Amebocyte Lysate) testing, also known as bacterial endotoxin testing, is an in vitro assay used to detect the presence and concentration of bacterial endotoxins in drugs and biological products, and is an important part of pharmaceutical microbiology.
Sterility Testing
Sterility testing and the development or validation of product-specific methods are critical steps in the drug development process to ensure viable contaminating microorganisms are not evident in a product.
Focused Excellence
Pharmaceutical Industry
The largest pharmaceutical companies in the world use Medistri's laboratory infrastructure to focus on comprehensive, innovative and fast solutions to optimise operations.
MedTech Industry
Start-up ventures to large established medical devices manufacturers use our laboratory services to deliver accurate and reliable results for all their testing needs.
BioTech Industry
Medistri provides laboratory services a focused set of solutions tailored to be integrated within the unique and specific needs of early-stage Biotechnology companies.
Better Reporting, Better Insights
From start-up companies to large entreprises, whether you choose a standard assay/protocol or requests a fully customised testing method, Medistri's scientific advisors will ensure that your specific needs are met according to your highest standards. We ensure that your team will be notified and regularly updated with the detailed outcomes of all stages of your project or analysis.
Our laboratory team aggregates all data, outlines findings, and recommend risk management proposals in a transparent, detailed, and precise manner.
Powerful Testing Systems
The principal focus of Medistri's laboratory, from the structure of the management team to the development of new testing solutions and the investments we continuously make towards our laboratory's infrastructure, is about finding perfect solutions for our customer's toughest challenges.
Our Laboratory is located in the heart of Switzerland, allowing us to continuously serve the countries most innovative universities, research institutes, start-up companies & large enterprises.
The combined resources & complete integration of expertise from our laboratory, sterilisation & quality team allow our customers to fully integrate the development of their products within their existing operational workflow.
State-of-the-Art
Our customers are focused on finding solutions to the healthcare industry's most complex problems. We've designed our facilities around helping them find these solutions.
Since our foundation, we've aligned ourselves with our customers and allocated our resources towards combining the best intellectual resources with the most sophisticated instruments.
Modern expertise:
Continuous development of Test Methods
Continuous training on technical development
Continuous education on regulatory changes and complexities.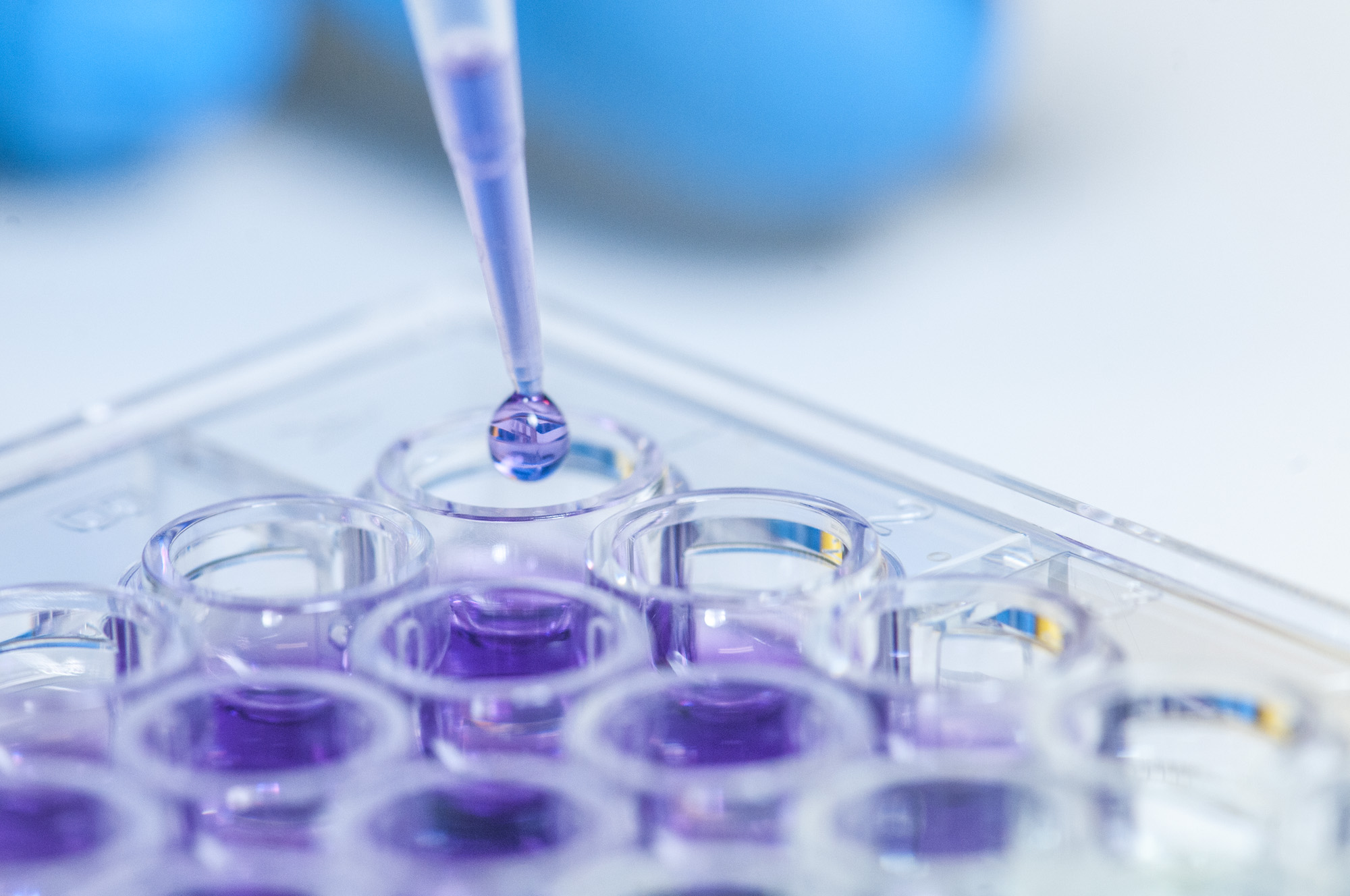 A fully integrated stack of services.
Medistri is continually innovating our in-house range of services. We're expanding our services to offer a complete integrated suite of solutions for innovative healthcare companies. Organisations of every size — from startups to large enterprises use our suite of services to grow & optimise their business.
Medistri combines all its technical infrastructure and places quality at the heart of our day-to-day operations. Allowing you to simplify your supply chain management and focus on growth.
Discover how our customers use Medistri's stack of integrated services ➝
Laboratory Services for Innovative Ideas
Powerful laboratory infrastructure to help the world's most innovative healthcare companies.
Use our suite of services and expertise to seamlessly develop your most complex ideas.
Chemical Characterisation
Cytotoxicity
Toxicology Studies
Heavy Metal Elemental Analysis
Environmental Monitoring
Trace Elemental Analysis
Plastics Testing
Medical Device Shelf Life Testing
Small Molecule Identification and Purity Testing
Residual Testing
Sterile Barrier Integrity Testing
Complement Activation
Are you ready to get started?
Contact us and our qualified team will respond.